Why Are Refrigerant Dehumidifiers So Useful?
Posted on 10 October, 2015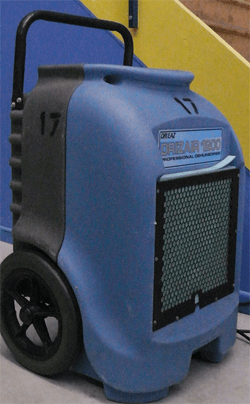 Have you got water damage in your home or office? Water can cause a huge amount of damage if not looked after properly. PHJ services have the right tools and know how to get any area you may need dried.
This is a basic refrigerant dehumidifier and although it looks like a fairly innocuous piece of equipment, it is a very important tool used in drying carpet and structures.
In any space that needs to be dried we have to cause evaporation. We can create evaporation through the use of air movers. However, too much evaporation will make the air within a confined space reach due point. Then all that air movement does is, spread moisture around and cause secondary damage.
The Refrigerant Dehumidifier is designed to capture moist air, dry it and then pump the drier air back into the confined space. After this, the captured moisture from the air is hosed away into a separate container or a drain.
Going back 12 years ago, there were very few Dehumidifiers used in drying and as a consequence drying was often done very poorly. Now they are used on a daily basis. There are occasions when they are not required, but they are a very valuable tool for Water Damage Restoration.
If you have a structure that needs drying, don't wait and hope for it to happen on its own. Contact PHJ Services for a certified and professional team that will get your space dry in no time!